We and our network of independently owned and licensed affiliates are well aware of the misconceptions people share towards any type of car related service. Having to spend a day in the garage we are always anxious about an unforeseen problem that might arise and cost us money we did not expect to spend.
At Towing Austin Pros, your satisfaction comes first, and that directs our pricing policy. We are obligated to bring you the most competitive prices for a completely transparent service. We wish for you to be aware of every step along the way, and can, therefore, guarantee you an honest and affordable price.
We are guaranteeing the best towing prices in Austin for a great service.
Transparency first
Towing and Roadside Assistance Service Prices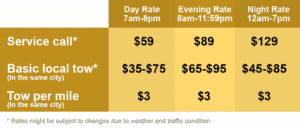 As a way of assuring our prices and service remain the best in Austin, we let you know our rates up front. This way no surprises are possible. After diagnosing the problem with the vehicle we will start our job, letting you know throughout the process what is being done.
For our company to stay the best, we publish all of our rates for you to see. This way, you encounter no hidden charges, no hidden costs.
Motorcycle Towing Prices
Our services and rates:
Tow truck services:

Local / Long distance towing
Short distance towing
Wrecker services
Motorcycle towing services

Battery services:

Battery jumpstart
Dead battery replacement

Roadside Assistance Services:

Refueling a car
Changing a flat tire

Auto Lockout services:

Rekeying
Broken key extraction and repair
Car Lockout solutions
Call us now at (512) 772 – 5480 for a quote or get a free estimate from an expert.